Smokie - The Best Of Smokie (3CD) (2002) FLAC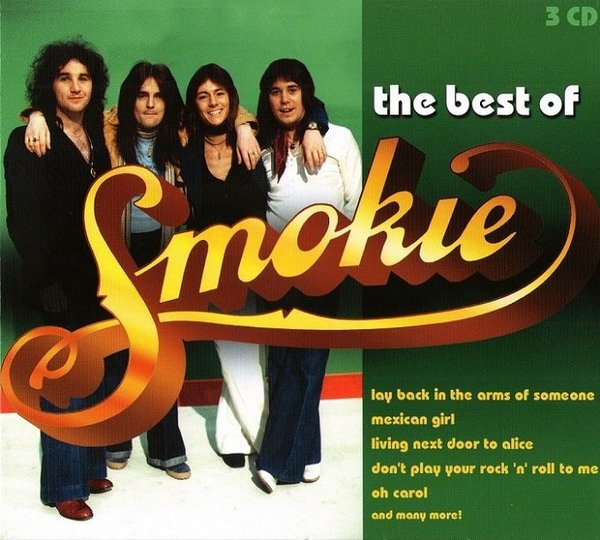 Artist
: Smokie
Title Of Album
: Smokie - The Best Of Smokie (3CD)
Year Of Release
: 2002
Label (Catalog#)
: Ariola Express [74321 95074 2]
Country
: England
Genre
: Rock, Soft Rock, Pop Rock, Glam
Quality
: FLAC (*image+.cue+.log,scans)
Bitrate
: Lossless
Time
: 03:04:36
Full Size
: 1,22 GB (+3%)
Smokie
(originally spelt Smokey) are an English rock band from Bradford, Yorkshire. The band found success at home and abroad after teaming up with Mike Chapman and Nicky Chinn. They have had a number of line-up changes and were still actively touring in 2018. Among their most famous hit singles are "If You Think You Know How to Love Me", "Oh Carol", "Lay Back in the Arms of Someone", "I'll Meet You at Midnight". Their most popular hit single, "Living Next Door to Alice", peaked at No. 5 on the UK Singles Chart and, in March 1977, reached No. 25 on the Billboard Hot 100.
Tracklist:
CD1
01. If You Think You Know How To Love Me
02. Don't Play Your Rock 'N' Roll To Me
03. Something's Been Making Me Blue
04. Wild Wild Angels
05. I'll Meet You At Midnight
06. Living Next Door To Alice
07. Walk Right Back
08. It's Your Live
09. Love Remains A Stranger
10. For A Few Dollars More
11. Oh Carol
12. Mexican Girl
13. Do To Me
14. Babe It's Up To You
15. San Francisco Bay
16. Take Good Care Of My Baby
17. I Do Declare
CD2
01. Run To Me
02. Little Town Flirt
03. When My Back Was Against The Wall
04. Little Lucy
05. Now You Think You Know
06. Will You Love Me
07. Goin' Tomorrow
08. Power Of Love
09. Baby It's You
10. Love's A Riot
11. Lay Back In The Arms Of Someone
12. No One Could Ever Love You More
13. Light Up My Life
14. The Other Side Of The Road
15. I Can't Stop Loving You
16. Don't Take Your Love Away This Time
17. Falling For You
18. Headspin
CD3
01. Needles And Pins
02. Yesterday's Dreams
03. You'll Be Lonely Tonight
04. The Loser
05. Don't Turn Out Your Light
06. The Coldest Night
07. I Can't Stay Here Tonight
08. Sunshine Avenue
09. The Dancer
10. It's Natural
11. We're Flying High
12. Changing All The Time
13. Back To Bradford
14. Daydreamin'
15. Think Of Me
16. Julie
17. It Makes Me Money
DOWNLOAD LINKS: Smokie - The Best Of Smokie (3CD) (2002) FLAC
Внимание! У Вас нет прав для просмотра скрытого текста.